So, it has been a while since I have posted an update. The past two weeks have been pretty stressful! We went through arguably the hardest part of the course and we are here to tell the tale. Most of our course work has been applied biochemistry, from yeast metabolism to aging characteristics of beer. Trust me, it can get pretty complicated!
On a food note, last weekend I tried chiliquiles which is the best non-breakfast breakfast food I have ever had. If you have a good mexican place nearby, get them to cook you up some chiliquiles for breakfast. Think black beans and rice with tortilla chips instead of rice (its more like nachos with an egg). Delicious!
I have continued my "real mexican food" experience, even at establishments not necessarily running that business model. I had some delicious tofu fajitas at Handlebar, a great little restaurant on W. North. I highly recommend it to any Chicago traveler!
Last week, we had our first taste of Germany. Our professor, Michael, a graduate of Weihenstephan with a Ph.D. in beer gushing, spoke to us regarding all things oxygen and beer. It is so helpful to have professors from Germany here in America so they can experience first-hand what we have been working on thus far. Class ended last week on a great note, despite having to say goodbye to our friends from Three Floyds Brewing Company and Starr Hill Brewing Company. Make sure you drink beer from these awesome companies! It is made by great people.
Friday we took a field trip to one of Chicago's new breweries, Metropolitan Brewing Company. The owner is a Siebel alumnus so if you are in the Chicago area, make sure you try some of their beer!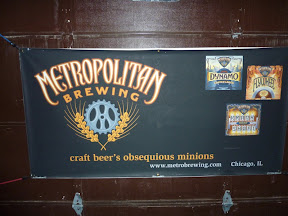 They have a cool little setup and we had a good time pre-gaming there before heading over to the Hop-Leaf, one of Chicago's great beer bars.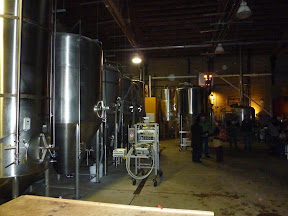 Hop Leaf gave some of us a chance to sit around and chat for the first time and I spent a fair amount of time picking Michael's brain. Beer and the drinking culture is very different in the United States and I can say proudly that in some aspects, the Germans are envious of what is going on here. It is like getting a compliment from a Ph.D. from Weihenstephan, err wait ... (for those of you who aren't familiar, Weihenstephan is home to the oldest continuously operating brewery and one of the centers of beer education in the world).
Time in Chicago is going by so quickly. We only have two weeks left, and while I am excited to be heading to Europe, I am going to miss this place. Chicago is a fantastic city with fantastic people. It is going to be very sad if I can't get back here soon.
As the end of my seven weeks approaches, I will try to post at least two more updates. Much of my time will be spent studying and enjoying the time I have left. I promise, I will have more updates when I am in Germany!
P.S. I taught my roommate, Justin, how to make O'Cain bread. He will be a baker before you know it.
Also, many of you have sent emails and I can't thank you enough! I apologize for not responding to most of them. I am having enough trouble finding time to call my parents. Trust me, I am studying and not ignoring you! It really means a lot to get words of encouragement!
Location:Chicago, IL