It has been awhile since my last update but for good reason. We've been at it one hundred miles an hour since we arrived in Munich. School has been going really well. I can't say enough about how amazing Doemens is. The calibre of our professors is top notch and the school itself is amazing. Week one went by without a hitch and we finished it off with a most memorable of weekends.
In Germany, it is standard that classes only last until 12:00pm. Having a half day on Friday shows their understanding of culture and the balance of "work" and "play". Everyone stops paying attention on Friday anyways and the professors have a life outside of school which they want to enjoy. It is an appreciation for life which I have missed in the US where, instead of getting off work early on Friday, I worked an extra hour. Ohh the almighty dollar. How quickly I would trade you for an afternoon of enjoying the outdoors.
Friday, I bought my bike.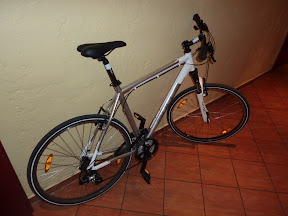 She is a wonderful little thing, perfect for the bike friendly roads of Munich. I broke her in on Monday, when Shaun and I cruised through the streets of Munich to Grafelfing (roughly 8 miles one way). My maiden voyage went the way of many before it, with trouble striking mid trip! If I had done a little research ahead of my trek, I would have known that "strong chance for rain" was the day's forecast. "Strong chance of rain" should actually read, "it is going to rain, hard" and rain it did, about 4 miles into the trip. Rain-soaked, we finished out the ride, only getting lost once. School that day was tough, as denim likes to hold water. I was demoralized and took my bike home via the train.
It was a humbling Monday because I was riding high from the weekend. Courtesy of the Euro Youth Hostel and its party friendly inhabitants, we had two memorable nights. In fact, Saturday we participated in the largest single night revenue in the Hostel's history, beating its previous record by a mere 600 euro (quite a feat when a half liter costs 2.90 euro and 2 euro during happy hour).
This is a picture of the awesome square bar where all the magic happens. We spent most of the time hanging out with a stag-do (British name for bachelor party) from Cheltingham, England. I did learn to never doubt an englishman's singing ability, especially when it comes to Oasis or the Beatles. Met some really cool students from Rome as well. All in all, one of the better weekends of my young life.
The weekend days were spent in the English Garden. I have never been to a park which even comes close to the English Garden on a nice sunny day. It dwarfs central park in size and experience. Absolutely a must visit when in Germany.
Will provide another update soon. Chelsea vs. Man United is about to kick off. COME ON UNITED!
Location:Munich, Germany