Like good brewing students, we planned the last week of brewing school around studying for exams. Also, like good brewing students, when the studying and exams were finished, we immediately made a pilgrimage to the oldest brewery in the world. Our last exam, on Tuesday, was a 30 minute microbiology practical and interview, so following that up with an extensive "industry research" session at a local brewery was a great way to celebrate the end of exams.
Weihenstephan is the world's oldest brewery and has been running since 1040. There is also a German brewing school with the same name. The brewing school is one of a few schools which make up Weihenstephan. To get there, you take the train from downtown Munich all the way out to Freising which is a wonderful little suburb of Munich.
After walking up the hill from the train station we got to the entrance of the bier garden. We didn't get a tour of the brewery but we weren't too concerned with that. We have seen many breweries in Germany and for the most part they end up being quite similar.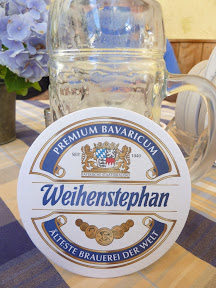 During our studies, we had conducted an unofficial survey on the Bavarian drinking record. Virtually everyone we met was quizzed on their "liter record" and found out that the unofficial record is held by the towering master brewer at Riegele and stands at 11 Liters. Thus, the 12 Liter challenge was born. Since the next couple days were a bit more relaxed, a few of our class mates decided they were up to the challenge!
While they went for the record, a half liter at a time, I enjoyed another charcuterie plate. I must say that I have fallen in love with shaved horse radish. The nasal clearing sensation associated with it, I find cleansing. I also really enjoy the taste of it!
This is a great shot of the group up at Freising. We were obviously loud and American, but actually managed to get some of the Germans involved with our festivities thanks to Mike Brenner, our resident tenor, who performed the WBA Master Brewer Theme Song, "Maaaaaking the Beeeeer". He clearly made an impression on the German patrons who applauded him after every outburst.
After finishing up at Freising we headed to Hofbrau Haus where one of our 12 Liter challenge contestants hit the wall and made a sneaky "Irish Exit", but not before trying to climb through the window from the inside of the Hofbrau Haus to the outside. Here I think he was addressing some concerned patrons, or thanking some fans, who knows. No harm done, it was a great laugh to end the night.
Location:Freising