I apologize for taking so long to update the blog. Its been a hectic week and we had our first test on Friday. The tests haven't been graded yet but I know I did well. Studying has taken up most of my non-class time which isn't bad because the content is so interesting. Friday marked the last day of "raw materials" in which we covered the processes that barley undergoes from the farm to the mash, water chemistry, and hops! While malting and kilning aren't directly involved in brewing, like anything, good quality raw materials are a necessity for a quality finished product. The major takeaway that I have from this week is that I am now an informed consumer!
Some of the guys and I have been doing most of our studying at the Goose Island Brewpub which is conveniently located right across the street from Siebel. A normal afternoon involves getting out of class, heading to the bier stube. (below)
That is where we eat lunch every day and gather after classes are finished for "R&D" / "product analysis". So far we have gone through a keg of Victory Prima Pils, Goose Island Honkers Ale, and we are currently working on a keg of Half Acre Daisy Cutter and a Kolsch (Don't know the brewery but it's delicious).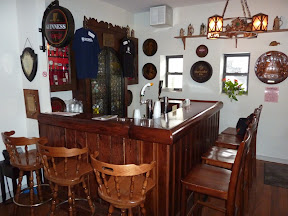 Classes are in a room about the same side as the lunch area, directly below the bier stube. It is all lectures by industry specialists and we have had one sensory training class so far. School is everything I expected it to be and more. All of the faculty are amazing and most of them have a beer with us after the day is over!
My gastronomic experiences have been predominately mexican and brewpub food. Mexican is amazing in Chicago because it is made with high quality ingredients in an authentic way. Abuelo's is a great neighborhood mexican restaurant which I frequent and is right next to my L stop! A picture sits on the wall stating: "Some people say football is a matter of life and death. I can assure you it is much more serious than that." I am right at home!
The L has been my main mode of transportation and I have also been taking the busses. Reliable public transportation is one of my favorite things in the world. I do walk on average about 2 to 3 miles a day, to the train stations and back which, combined with studying, builds my appetite! It's just a great way to live.
The United States lost one of its great portraitists this past week and I send my deepest condolences to Peter and Jas Gentling and their family. Scott Gentling is a man I never met, but the stories about him and his paintings are things I will never forget.
There is a great article written about him after an art show in 2008
I will post an update tomorrow with pictures of my room and my apartment. I hope everyone is doing well! Thanks for posting comments! Keep 'em coming.
Location:Chicago, IL